Brentwood
(01277) 374455
Chelmsford
(01245) 347222
Maldon
(01621) 826843
Grays
(01375) 398888
London (all areas)
(020) 8505 3344
Romford
(01708) 730520
Southend
(01702) 205911
Colchester
(01206) 763608
Ipswich
(01473) 206700
Epping
(01992) 570200
Head Office: Orchard View, Goat House Lane, Hazeleigh, Chelmsford, Essex, CM3 6QY
Stain Removal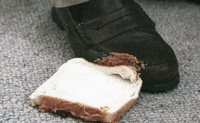 If your luck could be described as a text book case of 'Murphy's Law', we can help. We clean up after children, husbands, guests, pets and acts of nature.
How To Deal With Stains & Spillages...
Dealing with Stains…… Don't Panic!!
(Always test in an inconspicuous area before treating stain to confirm colour fastness of the item you are working on)
GREASY STAINS (eg. chocolate, butter, lipstick, some food stains)
Methylated spirit
Do not apply direct to the stained area.
Using a piece of cotton wool, apply to the edges of the stain working inwards.
Blot with an absorbent tissue/kitchen roll.

Fabrics may darken during this process but should resume normal colour on drying.
Repeat this process if required.
Using a soap solution on cotton wool, dampen the area and blot with tissue/kitchen roll.
Dry, using a hair dryer, continually moving it over the damp area (this will prevent water marking).
WATER BASED STAINS (eg. tea, coffee, fruit juices)
Soak up immediately using absorbent cloths i.e. towelling, tissues or kitchen roll.
Re-wet the area using tepid water on a small piece of sponge or cotton wool.
Blot with kitchen roll.
Repeat as necessary.
Dry with hair dryer keeping the dryer moving all the time, this will prevent water marking.
DRIED IN STAINS
Soap Solution – 2litres tepid water & a quarter of a teaspoon ONLY of a carpet shampoo & 1 eggcup full of white vinegar (not malt vinegar i.e. brown).
Re-wet the stained area using the soap solution applied on a piece of cotton wool.
Blot using kitchen roll as above.
CARPETS
The final procedure on carpets after following the wetting and blotting should be as follows:
Place 5-6 layers of kitchen roll on the affected area and place a telephone directory or heavy book on top. Allow to dry over 24 hours, this will absorb any stain in the base of the fibres that are likely to wick up to the surface during the drying process.
Always blot and dab rather than rub. Rubbing can distort the fibres of the carpet and fabrics. Work from the outside of the stain towards the centre to avoid spreading the stain.
AA Carpet Cleaners offer an emergency call out stain removal service for all carpets, rugs and upholstery. We work to a standard that if we cannot remove a stubborn stain, then no one can. We use old-fashioned methods with the latest technology.
A FREE sample of our stain remover is left with every client after every job.
Ask about our Customer Referral Programme.
Brentwood
(01277) 374455
Chelmsford
(01245) 347222
Maldon
(01621) 826843
Grays
(01375) 398888
London (all areas)
(020) 8505 3344
Romford
(01708) 730520
Southend
(01702) 205911
Colchester
(01206) 763608
Ipswich
(01473) 206700
Epping
(01992) 570200
Head Office: Orchard View, Goat House Lane, Hazeleigh, Chelmsford, Essex, CM3 6QY